Permanent Vanlife is still about one year away, so I decided to get a feel for it, by planning multiple one-week trips in the van, throughout the US Southeast. This time I visit South Florida.
South Florida
Boondocking Campsite
I found a great boondocking spot in the center of the Everglades and woke up without any other campers around. After the usual morning walk with Joey and a quick breakfast, I leave to spend most of this day in the Miami metropolitan area.
The unpaved loop road, quickly changes back into a paved road, making driving faster and more comfortable. While I pass a few homes on the way, the Everglades remain a deserted area.
Old Gasstation
Before I join the Tamiami trail (Hwy.41) again, I make a short stop at a former gas station. The two pumps and the sales office are still in a fairly decent condition.
It must have been a struggle to remain profitable in such a remote location. Ultimately, the owner closed the business in the 1950s, in search for better opportunities.
ValuJet Flight 592 Memorial
On May 11, 1996 ValuJet flight 592 crashed nearby into the Everglades and all of the passengers and crew lost their lives during the crash. There was a desperate search or the 110 victims of the crash in the surrounding marshes, without success.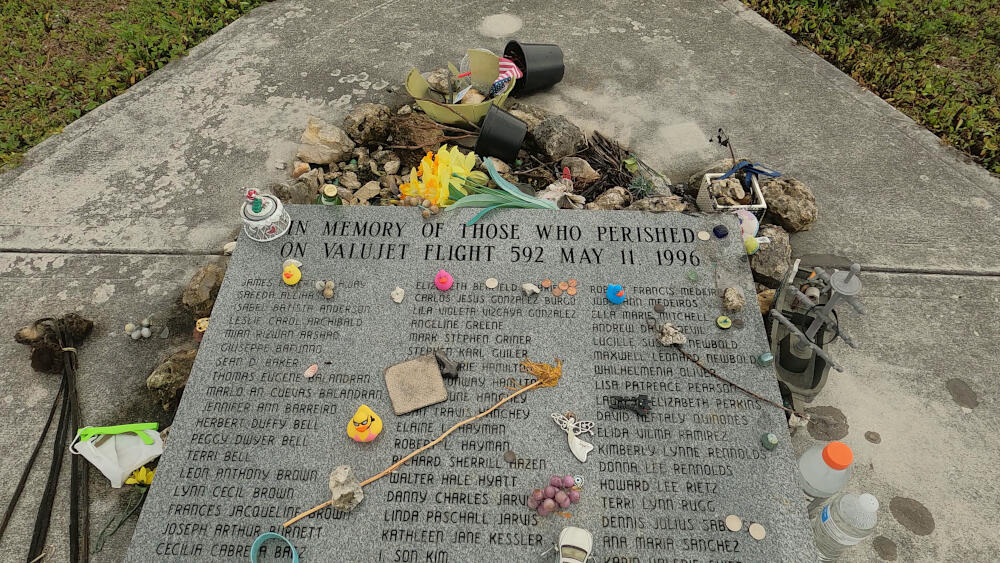 The cause of the crash was determined to be due to expired oxygen generators being improperly carried in the cargo hold. Three years later, this memorial was built.
Cape Florida Lighthouse
South of Miami, in Key Biscayne this lighthouse was erected in 1825, in a picturesque location within a historic park. This beacon is the oldest standing structure in Miami.
The structure is surrounded by white beaches and the tower is periodically accessible to the public for a small fee. Multiple hiking trails are available within the surrounding historic park.
Giant Hand Holocaust Memorial
This is the first of three monuments on my list today. This 40-foot-high hand reaching skyward is wrapped at its wrist by emaciated Holocaust victims. Grim and memorable.
While born after the Second World War in the Netherlands, my family endured some harrowing moments during that time, which has made me more aware about war crimes and abuses.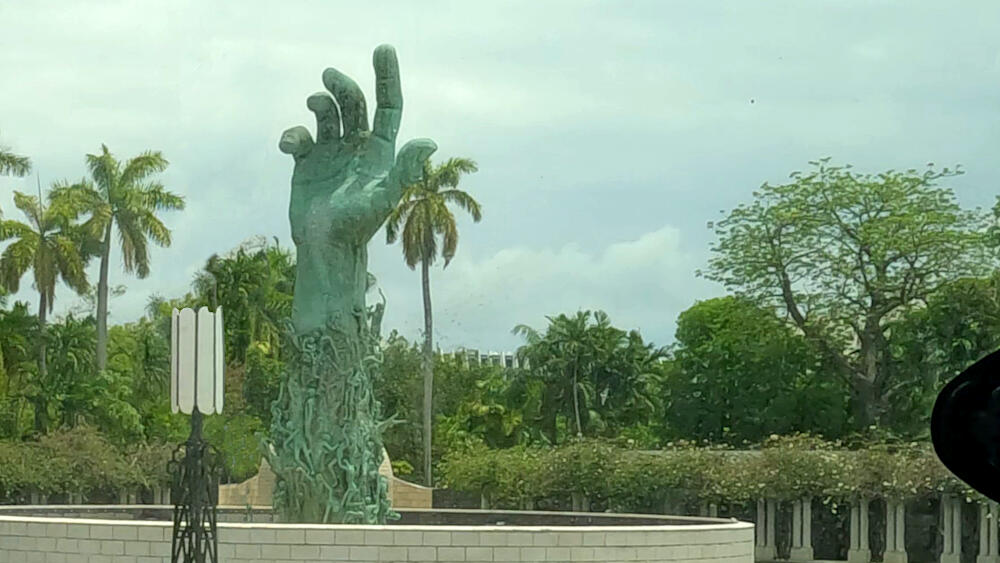 Unfortunately, pets are not allowed here and a shady parking spot during the hot Florida afternoon was not easy to find. I was lucky though, to get a quick look at the statue, while waiting at the traffic lights. I have to return here at some time in the future.
pEgasus and Dragon
At a relatively short distance, I found another statue, much more accessible and with an impressive size. With its height of 110ft, it is the second-tallest statue in the contiguous United States (the Statue Of Liberty, New York is 151ft tall without its pedestal). The behemoth beasts are engaged in an epic battle.
Easy to find parking here and Joey enjoyed his stroll on the expansive property. My lunch here, was unexpectedly engaging, with free horse racing on a nearby gigantic screen with loud commentary.
Thrive Sculpture
This concrete sculpture, created by Daniel Popper, features a woman opening her heart to showcase a beautiful fern. The 30ft statue is located in a busy area of town and again, parking was an issue for me here, but I got a great shot out of it. As an art lover, it is worth a visit.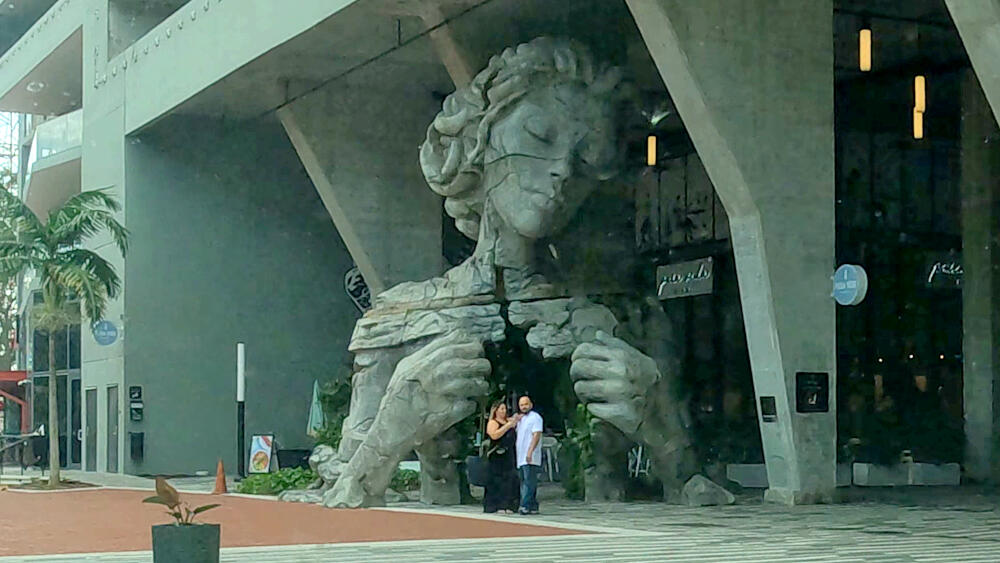 Parkland School Shootings
Finally today, I make a visit to the Stoneman Douglas High School in Parkland; on February 14, 2018, a teen gunman kills 17 and injures another 17 in one of the many mass murders, that take place every year in the United States.
A final memorial is still in the planning phase, so I decided to go to the corner of the school property, where the victims are remembered, to reflect and think of all the lives that were changed forever.
Jones/Hungryland WEA campsite
After a busy day of city driving, it's already dark, when I arrive at my next boondocking campsite. With only one site at this location available, I expected a quiet night.
At around 11PM though, I was crudely awakened by a local sheriff, who explained to me that the correct campsite was about 100ft further down the road. After showing my online reservation, I moved over and we both had a fruitful night.
When I woke up in the morning, this fantastic…. well, I'll tell you about that in the next video.
VISITED LOCATIONS
Florida Trail End campsite➜ 25.7601, -81.0343
Old Gas station ➜ 25.7610, -80.9220
ValuJet Flight 592 Memorial ➜ 25.7617, -80.6719
Cape Florida Lighthouse ➜ 25.6663, -80.1564
Giant Hand Holocaust Memorial ➜ 25.7950, -80.1361
Pegasus and Dragon ➜ 25.9822, -80.1405
Thrive Sculpture ➜ 26.1194, -80.1446
Parkland School Shootings ➜ 26.3060, -80.2671
Jones/Hungryland WEA campsite ➜ 26.9970, -80.2744